APWA award winners shed new light with infrastructure solutions
The key to long-term business success is going green
Wisconsin-based construction company leads the industry in green building
Why sourcing materials plays a critical part in obtaining high-level green certifications
Topsoil alternatives provide a safer, eco-friendly and more affordable option for construction projects
Must-see statistics on the construction industry's reputation for sustainability
Study shows American survey respondents view the construction sector as having little regard for green reputations
Identify the legal risks of going green to avoid costly project mistakes
Updates to the USGBC's building standards are set to simplify paperwork and enhance building efficiency.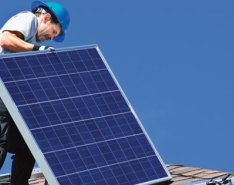 Be aware of the precautions required on renewable energy jobs.
Integrated components simplify the building process.
Contractors who understand how materials impact energy code compliance will have a competitive advantage.
A general contractor shares the challenges and successes of converting a dilapidated building into a sustainable modern office.
To change the way we think about civil projects, we must be able to measure the value of sustainable efforts.