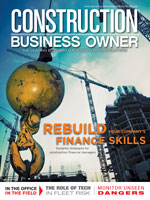 Construction Business Owner is "The Leading Business Magazine for Contractors." From its inception, it was designed to be a different kind of construction magazine, filling a need in the construction industry for the kind of business management knowledge that is of practical value to the owners of construction companies. 
Subscribe by clicking the links below!
Construction Business Owner Magazine
Subscriptions to qualified U.S. readers are FREE. International readers may sign up for free to our digital edition. Paid print subscriptions are also available for international readers and non-qualified U.S. readers.
Subscribe for FREE to Construction Business Owner Magazine 


Renew your subscription or update your address
CBO Alert E-Newsletter
Delivered to more than 27,000 subscribers worldwide, this e-newsletter includes features, article links, industry news and special web content.